Easy Recipes To Follow In Your New Home
Posted by Allie Williamson on Wednesday, May 20, 2020 at 12:26 PM
By Allie Williamson / May 20, 2020
Comment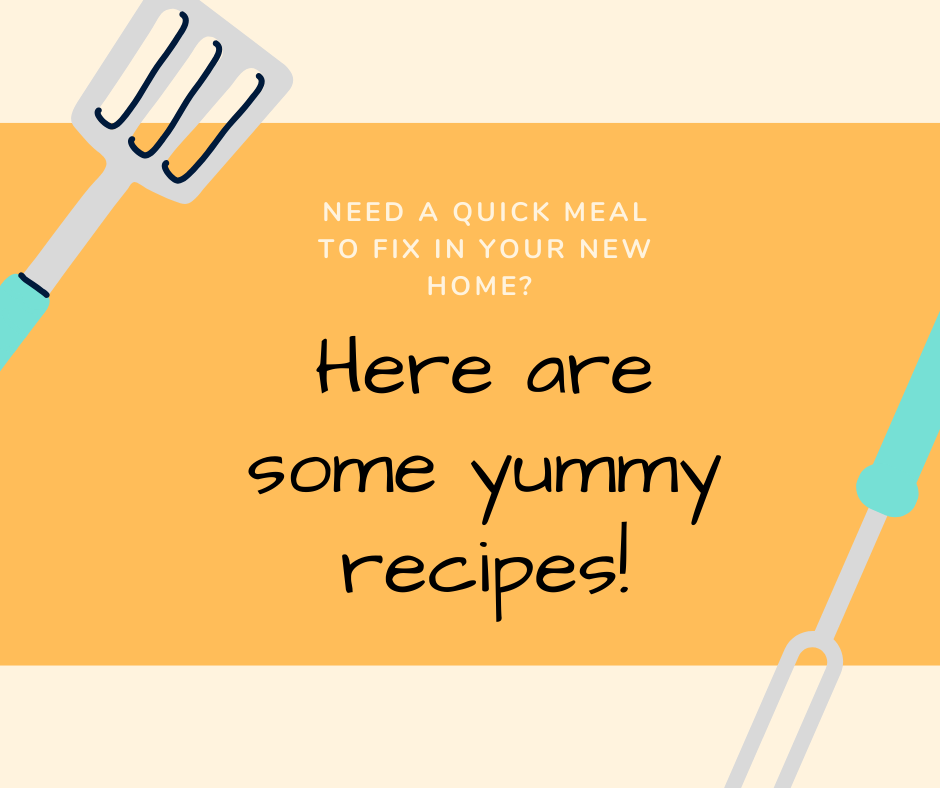 We all love some yummy food...right?! We're all in luck because today I am bringing a few of my favorite recipes that you can cook in your new (and current of course) home! I have one absolute favorite dish that I will definitely be cooking as my very first meal in my home this weekend and I am so excited to share with ya'll the recipe that I follow! And now without further-a-do...YUMMY RECIPE TIME!!!
Cheesy Dorito Chicken Casserole
THIS RECIPE IS JUST STRAIGHT-UP YUM!! When I spoke about including the best recipe (in my opinion) this is it! This recipe is so special to me because my Meme would make this only for her and me to eat when I lived closer to her as a kid. I could be basing my opinion off of that alone, but I promise you, this recipe is the best-tasting one ever for me! Now, let's get to what you need and how to make it!
What You're Going To Need:
1 tablespoon of butter
1 medium onion, diced
4 oz of cream cheese, cut into chunks
4 cups of cooked & shredded chicken (I use already done rotisserie chicken)
2 (10.75-oz) cans of condensed cream of chicken soup
2 (10-oz) cans of Rotel Tomatoes (mild)
1 cup of black beans
1 tablespoon of chili powder
1 teaspoon of ground Cumin
1 bag of Nacho Cheese Doritos
2 cups of shredded Mexican Cheese
How To Make It:
Preheat oven to 350 degrees. Melt the tablespoon of butter over medium heat in a large skillet. Add the diced onion and cook until it's soft.
Add the cream cheese, rotisserie chicken, soup, tomatoes, black beans, chili powder, and Cumin.
Stir that mixture until cream cheese is melted and everything is blended together.
Add 1/3 of the Doritos into a lightly greased 9x13-inch dish. Pour 1/2 of the chicken mix on top of the chips, making sure to spread it out evenly.
Top the spread with 1/2 of the shredded cheese and add the mixture on top of the cheese, evenly spread out again.
Finish the dish with Dorito chips on top of the second mixture spread and add the shredded cheese.
Bake for 30 minutes and serve!
Garlic Herb Steak Bites With Potatoes
You know how I said the other recipe was yummy and my favorite... yeah well this is a close second!! And if we're being honest, it's even easier to make than the casserole!! Super quick and equally just as yummy!
What You're Going To Need:
1 tablespoon of olive oil
2 tablespoons of butter, divided
1 pound of Yukon Gold potatoes sliced with 1/2 an inch thickness
3 garlic cloves, minced
1 teaspoon thyme, chopped
1 teaspoon rosemary, chopped
1 teaspoon oregano, chopped
1 - 1/4 pound sirloin steaks, cut into cubes
salt and pepper
How To Make It:
Heat a large cast-iron skillet over medium-high heat.
Add your one tablespoon of olive oil and butter, potatoes, garlic, thyme, rosemary, and oregano. Cook this for about 3 minutes. Stir the mixture and cook for an additional 3 minutes until fork tender. Remove and set aside on a plate.
Turn your skillet to high heat now. Add 1 tablespoon of butter and now the steak bites. Let the steak cook until you feel it is cooked to your liking.
Remove your steak bites from the skillet and place it on the plate with your potatoes.
Top it with your cooked, chopped herbs and serve.
See! This recipe is so very easy to make and tastes oh-so-good!! I hope you guys can take these recipes and enjoy them with your family and friends. They're so simple and just way too good to keep them all to yourself!! Enjoy!