Moving To-Do List
Posted by Allie Williamson on Wednesday, May 6, 2020 at 1:55 PM
By Allie Williamson / May 6, 2020
Comment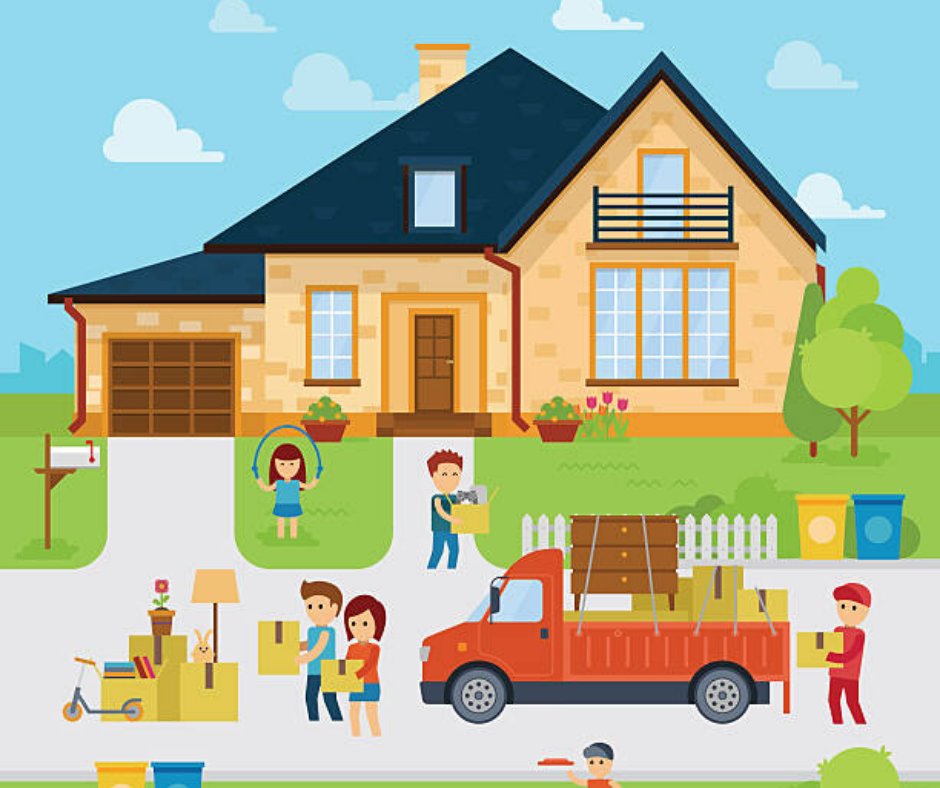 It's finally here! You have started the home buying process and are getting prepared to move! First of all, let me just start out by saying a huge congratulations to you for getting to this point. Second of all, I know how stressful moving can be. So I decided to put together a checklist for you that will hopefully make your moving process go a lot smoother!
2 Months Out
So now you've begun the escrow process. A seller has accepted your offer and now it's time for you to start getting ready to start your life in your very own home! So where should you begin? Well, the very first step is to take a look at your current situation in your home. The biggest thing that needs to be done is to start decluttering. Sort through any and all closets, drawers, and cabinets that your current home has. Create three different piles for your items: keep, throw away, and donate. Anything and everything that is not a necessity, you have multiples of, or just don't use anymore needs to be taken care of. You don't want to start off with extreme clutter and unnecessary items in your new home.
1 Month Out 
Everything is now decluttered and organized; this means that you're getting closer to move-in day! Now is the time when you need to start getting all of the necessities to start packing up. Of course, you can go to the store and buy boxes for your things to be packed up in, but there is a cheaper option that will save you money! Ask around to family, close friends, or even co-workers if they have any unused boxes they are needing to get rid of. You'd honestly be surprised at how many people have boxes that they've been waiting to throw out!
After getting the boxes, make sure that you have your cleaning supplies, tape, scissors, tools, and anything else that might be essential to you when it's time to move. Having this stuff already put together and ready to go will make the week of moving so much easier for you! It's also getting to be the time where you need to contact your service providers to let them know when you need to either cancel or transfer their services to a new address. These service providers include your water company, gas and electric company, cable and internet provider, and trash services. If you have to cancel your service, now is the time to find somewhere else that will be able to provide you the services and get them set up and ready to go when you move in.
1 Week Out
If you haven't already started, this is the time to begin packing. I can guarantee you that for the next week, all you will be saying is the words "pack or packing." Before you even begin packing, go back through everything, and make sure that you have everything you need organized and ready to go. If you're all good, start putting your stuff in those beautiful boxes and label them! You can even go the extra mile and color-coordinated all of your boxes that way you know exactly what box needs to go in what room. This is also the time where you need to forward all of your mail to your new address and contact the locksmith to change the locks. You definitely don't want anyone coming into your home!
Here's a quick tip: when you're packing everything, also make sure to pack a "First Night Box." Moving is exciting, but also very chaotic and exhausting. What a "First Night Box" does is allow you to have all of your necessities that you will need for the first few days and nights while you are in the midst of moving and unpacking. Here are some items to include: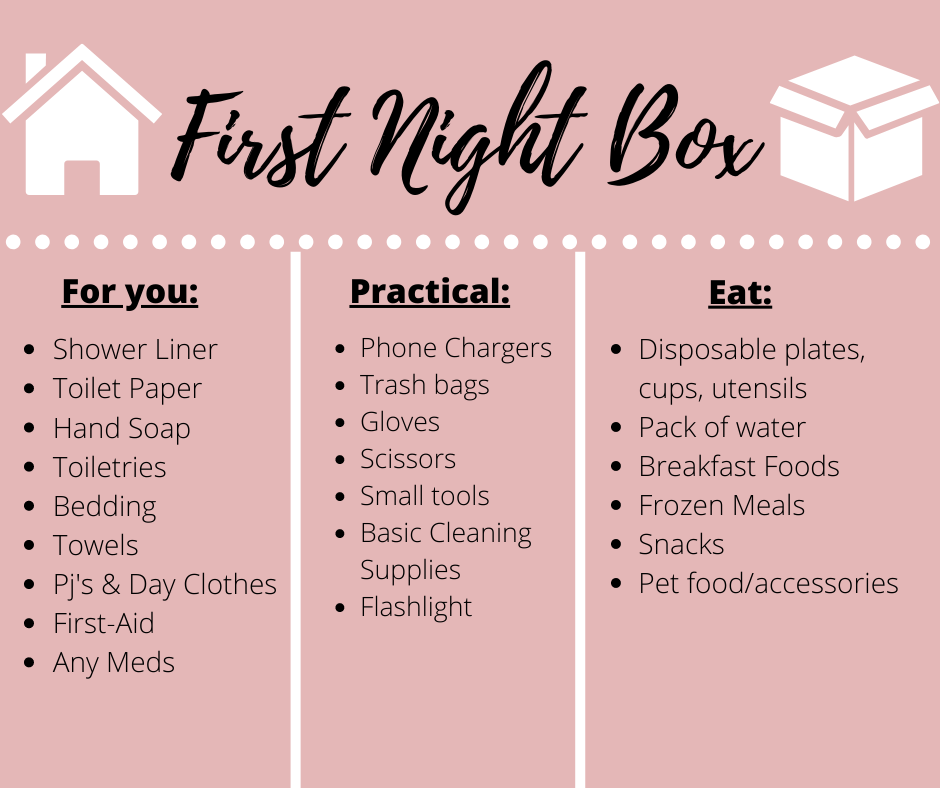 On Moving Day
The day you have waited about a month or two for is finally here! It's going to be exciting, fun, chaotic, and exhausting, but it's finally here! When you have all of your boxes packed up and ready to start moving, whether you're using a moving company or not, make sure to do a final walk-through. Check every room, closet, cabinets, and drawers in order to be 100% sure you have everything you own and want to take with you. If you don't already have a gameplan, you can go ahead and make one, but honestly we all know things don't go as planned. Enjoy and cherish this moment! Once you walk out and lock the door behind you, there is nothing but a bright future in your new home ahead of you! Congratulations to you. You did it!
After Moving
You're now in YOUR home. You are now an official home-owner! Get inside and start unpacking/organizing to make your new home official. Even during all of the excitement, make sure to confirm your address with your employer, bank, creditors, DMV, and doctors.
Once you're all done and everything is set up... CELEBRATE YOUR VICTORY AND ENJOY YOUR NEW HOME!!!