Real Estate Myths Debunked
Posted by Allie Williamson on Monday, April 27, 2020 at 3:00 PM
By Allie Williamson / April 27, 2020
Comment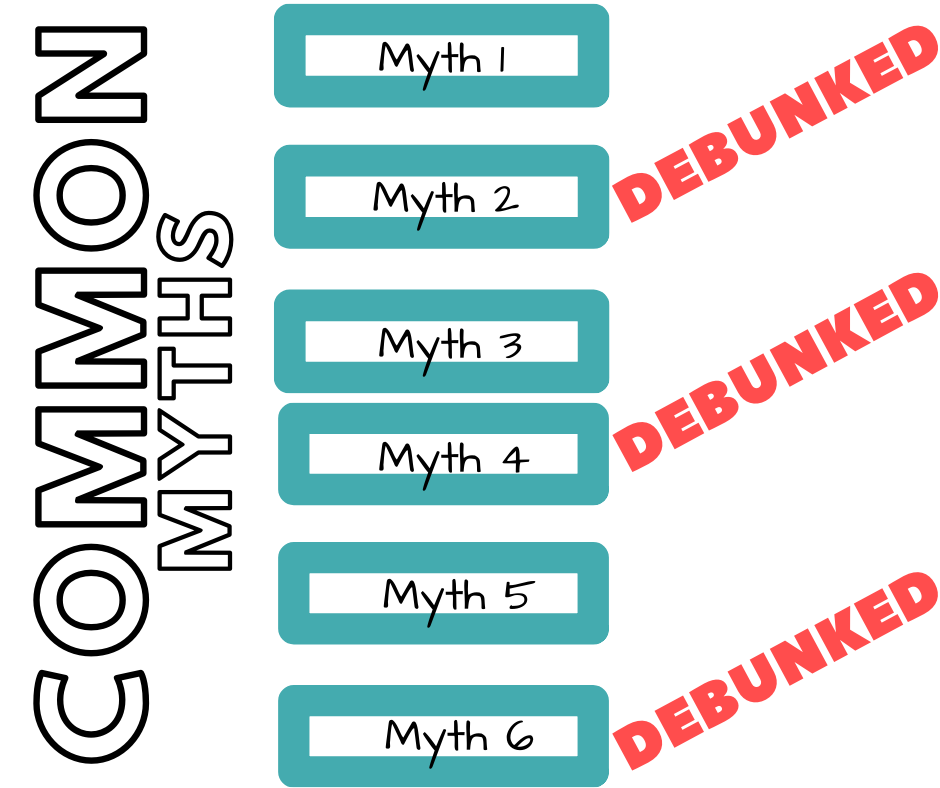 Myth 1: All Agents Are The Same
No one real estate agent is the same! Every person has their own personality, skill level, and attitude. Yes, each individual agent has the same basic knowledge and education, as they should, but when you match that with personality and ethics each person is different!
A common misconception is that every agent has the same goal in mind and it scares people away. This is NOT true! Just because you meet one agent and you don't feel like they understand you and are willing to help you, and do what's best for you, does not mean the next agent will be the same. Speak to the agent, meet with them, and then decide if you will work well together!
Myth 2: When Selling, Set A Price Intended For Negotiations
This is probably one of the worst things you can do as a seller! If your agent is telling you, or allowing you without warning, to price your home too high or too low, as a way to "leave room for negotiations" you need to find a new agent. Why is this such a bad thing to do? Well, this is because pricing your home incorrectly can be considered a "kiss of death." Meaning, if you price it too low, you're losing money, but if you price it too high, your home has the potential of sitting on the market for a very long time.
Correct pricing is one of the utmost important things when it comes to selling your home. If priced right, it can bring in many offers and sell pretty quickly and easily. But, if priced too high specifically looking for negotiations, prospective buyers will not want to pay for something that's not priced for what it's worth. It's just a long road of frustration, confusion, and lost deals. So always make sure that your home is priced at exactly the right price!
Myth 3: Pre-Approval Comes After Finding A Home 
Getting pre-approved is one thing that many first-time buyers don't fully understand right off the bat. Any agent you work with should make sure that you've been pre-approved before taking you out to view potential properties. It's exciting to be in a position where you can possibly buy a home for yourself or your family, but every step of the process leading up to closing on a home is very important.

You don't want to go out with your realtor and find the perfect home for you and then not be able to afford the home. Getting pre-approved allows you to know exactly what price range you should be looking in. If you haven't been pre-approved yet, this is your sign to go speak to a lender now!
Myth 4: Selling A Home For Sale By Owner (FSBO) Is Cheaper
There are many people who believe that it's easier and cheaper to sell their home through FSBO, but it's truly not always the case. Sure, you don't have to deal with agents and pay for their time and hard work, but there are multiple chances for things to go terribly wrong. A lot goes into selling a home and it's a lot for one person to try and do everything on their own. Real Estate agents are trained and educated on every step of the process so it's not difficult for them to handle everything that goes into selling houses.
So what could go wrong selling FSBO? Incorrect pricing that leads to either money lost or deals lost, transactions being handled incorrectly that leads to deals lost, or your house just doesn't sell as it should. Agents have the knowledge and resources to efficiently market and sell your home as quickly as possible. They also know just how to correctly negotiate between you and the buyer's agent. Why wouldn't you want to take the stress off of your back and let a professional take care of it?
Myth 5: Agents Only Show Their Listings
This is probably one thing that many people who are not familiar with real estate doesn't understand right off the bat. Personally, before I got into the industry I thought it was only possible to show your company's listings. I quickly learned that this is definitely not the case!
Every agent that belongs to the same local Real Estate Board of Realtors has access to a database called the Multiple Listings Service (MLS). This database allows every agent to have access to any and all listings that their board of realtors covers. From there, then they can communicate with the other agents to set up showings!
Myth 6: Agents Say And Do Anything To Make A Sale
Is this a possibility? Yes, it absolutely is. However, it's very rare that you will meet an agent that is only about getting paid and not about helping you find your perfect home. Every agent should follow and have a strict code of ethics, but of course there always could be that one agent that only wants their check. If you meet that agent, I promise you the next one you talk to will allow you to see how an agent is supposed to be. They should have your best interest in mind, so that's why you need to pick your realtor by how well you work together and if they are quick to answer any and all questions in order to make you comfortable.
Now that I have debunked six common myths in the real estate business, I hope you guys feel a little better! There are plenty more myths that I could go on and on about, but that's for a different time. I hope you took a little something from this. Have a great day!