To-Do List For First-Time Buyers
Posted by Allie Williamson on Friday, April 24, 2020 at 1:55 PM
By Allie Williamson / April 24, 2020
Comment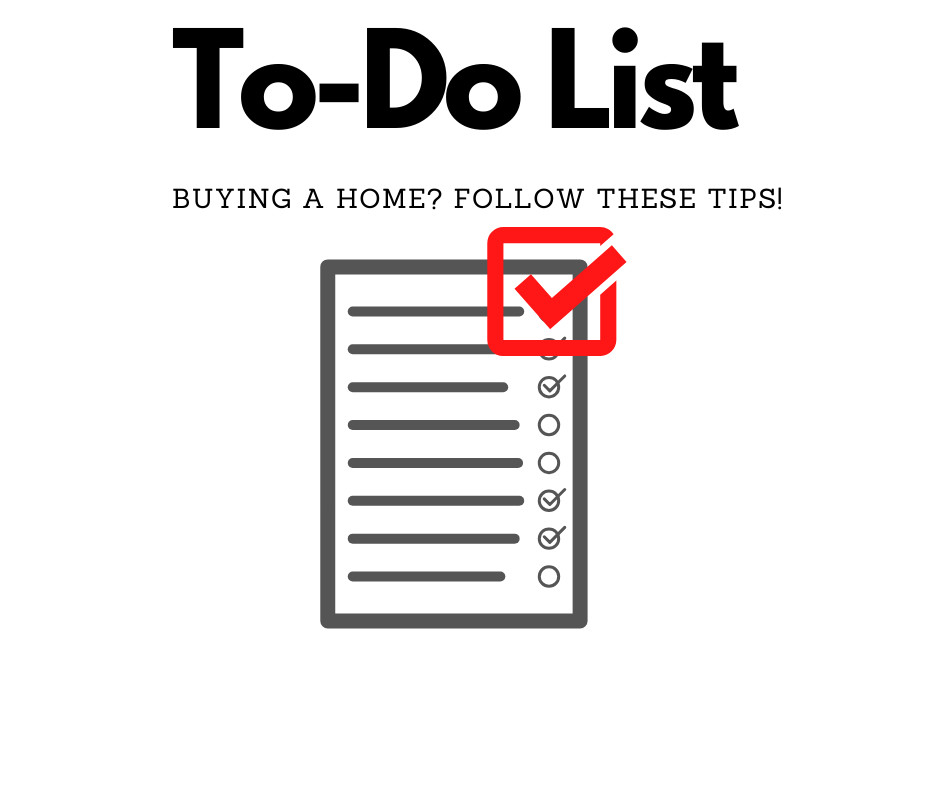 1. SAVE
When you buy a home, you have the option to make a down payment. It's not a requirement by any means, but if you need to put money down, make sure that you've saved for it. In all honestly, it's just a really great idea to save for anything and everything. You need to make sure that you're going to have enough money for closing costs, insurance and taxes, and just any other expenses you might have when it comes to moving into your new home.
2. IMPROVE CREDIT SCORE
You're to the point where you want to buy your first home, that's amazing. The biggest thing when it comes to getting a mortgage is your credit score. Depending on where you're at in life, whether you are 19 years old, or 45 years old, check your credit score. If you don't have some sort of credit history already, that's okay! Go online, to your bank, or even to a store where you can get some sort of credit card, and do it! If you do happen to have a score already but it's not the best, there are ways for you to clean it up. If your low score is due to late payments, you one hundred percent need to make sure you get current. ALWAYS PAY YOUR BILLS ON TIME!! If you're serious about buying a home, then do anything and everything possible to stay on time with your payments.
With that being said, don't go out and make huge purchases. Whatever you do, don't go take out an auto loan to get a new car. That's not going to help you in any way possible. Just wait until you can get your credit either built-up or cleaned up! A higher, better-looking credit score equals lower interest rates!
3. CALCULATE
So now you've saved your money to an amount that you feel good about... now it's time to figure everything out and start budgeting. There are many ways for you to be able to calculate and get a general idea of what your costs could be like month-to-month. The best thing for you to do would be to go and speak to a financial advisor. Doing so would allow you to go in person and speak with someone face-to-face in order to get a better idea and understanding of what your finances could look like including a mortgage.
However, if you don't feel like going and speaking to someone face to face, there are apps you can use. For instance, there is an app called Dollarbird. This app is a calendar for all of your finances! It allows you to track and forecast your money simply just by adding events to your calendar. You begin with how much money you currently have in your bank account, and add in when you get paid, as well as how much you get paid. Then you can put in when you have bills due and what the balance will be for each one. This allows you to see how much money you will have each month and gives you a better idea of what you can, or can't, afford! This is just one example however, there are plenty more that work just as great!

4. GET PRE-APPROVED
Now it's time to get pre-approved and start the process of looking for a home! This is probably THE MOST important step of the home-buying process. With this being one of the most important steps, you want a lender who is going to help you and educate you on what you can qualify for, and if you don't yet qualify, what you can do to fix up everything in order to be able to get a loan.
So what should you do? If you've already picked out a realtor, ask them who they would recommend for you to work with. Just as an example, here at Alethes Realty we work with and always recommend Union Home Mortgage. You want someone who's going to be easy to work with and will communicate quickly and efficiently. However, if you don't have a realtor that you can ask, call around, look online, and do a little bit of research. You don't have to commit to the first lender you speak to; it's okay to shop around! If you need to, you can even have a primary and back-up lender. It's completely up to you!
5. DECIDE
What do you want in your home? What do you need for your home to have? This is the time where you need to sit down and think about what your needs and wants are. However, I highly recommend you try and keep your list as reasonable as possible. It's not a guarantee that you will find that "purple unicorn" property so make sure you are prepared that any homes your realtor shows you won't be that unicorn property.

With that being said, it's okay to have standards and want certain things for a home to include! You just need to figure out what is most important to you and either write it down or keep it in the back of your head when it's time to look at properties!
6. CHOOSE
Now is the time where if you haven't already, pick your realtor. Remember, this person is going to be representing you and should only be worried about what is best for you. Whoever you choose to represent you should always ensure and let it be known that everything they are doing is for you and what's in your best interest. If you get even the slightest feeling that this person is not working to help you to the best of their ability, then it's probably time to stop allowing them to represent you and find someone who will.
So what should you look for in a realtor? I'm here to tell you that your agent should be someone who is quick and easy to communicate with, someone that tries to educate you on what's going on in the process, and isn't someone who is going to rush and pressure you to close a deal. A real estate agent should never make you feel pressured to buy a home! This is the biggest red flag that you need to be looking out for. If it happens, do not continue working with them because they are not the right person to work with.
7. VISIT HOMES 
It's now time to go look at the properties you've stared at through your computer or phone screen for so long. No more questioning what it looks like and feels like in person. This can be a really exciting, but also very intimidating experience. Don't be afraid to ask questions you normally wouldn't think to ask! Do your research before visiting and find out as much as possible before you visit the home so you are prepared with questions while in the property.

Make a list of pros and cons for every property you look at. How does the atmosphere feel? Does it check everything off of your list? Can you actually envision yourself living and being happy there for years and years?
8. NARROW CHOICES
So now you've visited the properties with your realtor and have a few decisions to make. What's going to be the best home for you? Which house doesn't seem to be the right fit for you? Let's say you have around two or three different options that you are having a hard time deciding on. What do you do now? Well, now it's time to go and see what it would be like to live there. Visit the neighborhoods again during the day, and even at night as a way to gauge what the noise level and traffic is like. Will you be able to go home after a long day and feel at peace? Or will you feel like you're being bothered in your own home?
Test the commute. What will it be like driving to work, to the store, or even just somewhere to get away and enjoy the day? If you have to, test the commute multiple times just to get a true feel of what every day will be like for you. But most importantly, how does the property make you feel? Does this feel like your home? This is going to be your home, so do whatever you need in order to make sure it is the perfect fit for you.
9. MAKE AN OFFER
If you've made a decision and everything has fallen into place, it's time to put in an offer! This is such an exciting time for you! Talk to your realtor and even now, continue to ask questions. You can always ask questions, and should always get a response. This is a really big deal for you so make sure that you are informed and comfortable with everything going on. Even if it doesn't work out on the first try, don't worry! If it's really meant to work out, it will!
10. SCHEDULE A HOME INSPECTION
You are on the path to being a real home-owner now! Your offer was accepted and closing is coming so it's time to get prepared! This is an absolute must-have step in the buying process. This is a requirement when financing your purchase through an FHA or VA loan, but even when it's not required, there is an inspection that needs to be done.
There could be nothing wrong with the property you're going to be purchasing, or there could be plenty that's not known to the naked eye. Getting a home inspection is the best way to get to know everything that there is about your future home and trust me, you need to know everything. If there are repairs that need to be made, this is how you will find out just what needs to be done and what you need to ask the seller to fix, if necessary. Be prepared though, because the inspector will give a huge list of what they think is needing to be fixed. It's their job to tell you absolutely everything they can and there could just be small cosmetic fixes that won't be any problem at all.
11. MAKE FINAL WALK-THROUGH
This is the last step before you sit at the closing table! Depending on where you live and who you work with this can be optional. However, it's in your best interest that you go and walk through the property you're about to purchase for the last time before it's officially yours.
Walk around looking at and testing anything you feel like should be checked one last time. Make sure any doors and windows are working and can be locked to ensure your protection when you move in. But most importantly, if any repairs were needed to be done, this is the time where you go through with your realtor and you check to make sure that everything was repaired. Go through and ask questions again just to make sure everything is good.
12. CLOSE AND MOVE IN
You're finally here! It's closing-day! Congratulations to you and may you live happily in your new home. Hopefully, your experience was wonderful and went smoothly, but if not, that's okay because now you're here! Enjoy your home and live to the fullest extent.